The Microsoft Windows 10 event which took place on October 26th highlighted 10 major aspects of the new browsers and multi-application creative platforms coming under the aegis of Windows 10. "We are all creators," says the accompanying 90-second recap video that accompanied the Windows 10 blog post regarding the event, and which could be taken as the slogan of this new rollout. Below are the ten main new features of the Windows 10 update.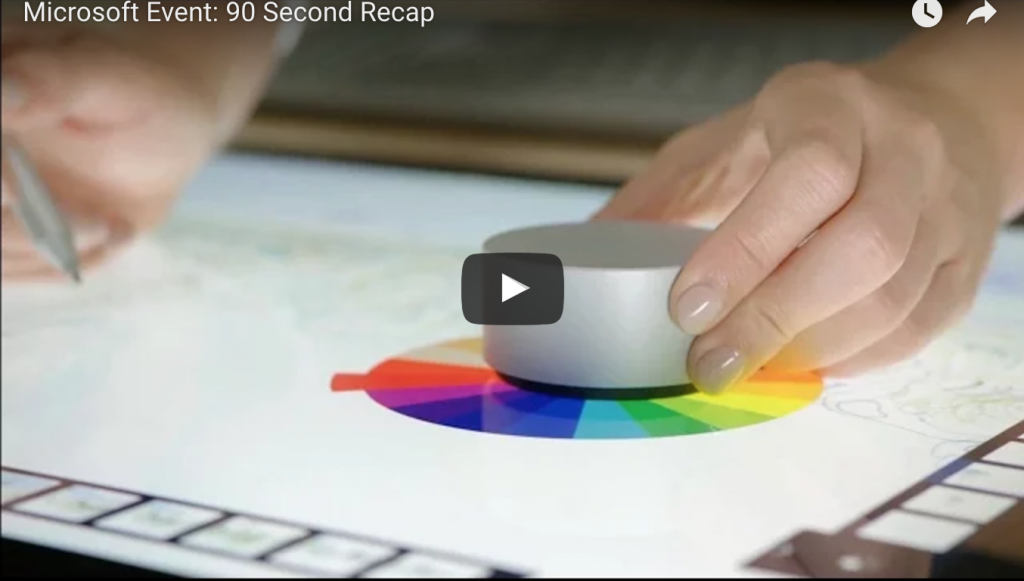 Turn your desk into the ultimate creative studio with Surface Studio.
A truly new class of device that transforms from a workstation into a powerful digital canvas, Surface Studio provides users a more natural and immersive way to create. It's the thinnest display ever built, and dazzles with its 4.5k ultra HD screen, delivering 63 percent more pixels than a state-of-the-art 4k TV. Pre-order Surface Studio now at $2,999 USD.
Give high creativity a spin with Surface Dial.
An all-new peripheral designed for the creative process, Surface Dial integrates with Windows 10 to work with any Surface device for faster and more intuitive ability to scroll, zoom, and navigate files and pages. Surface Dial, available for pre-order now for $99 USD, also enables a set of unique user experiences exclusive to Surface Studio.
The versatile power of Surface Book.
Surface Book with Performance Base makes the most powerful laptop in its class even more powerful. Three new Surface Book models feature 6th Generation Intel Core i7 processors and pack more than twice the graphics processing power as the first Surface Book iteration. Plus, it plugs 16 hours of battery life into the same sleek, versatile design beloved by many. Surface Book with Performance Base starts at $2,399 USD and is available for pre-order now.
Update to Windows 10 Creators.
The upcoming Windows 10 Creators Update in early 2017 will enable anyone to create, share and experience in 3D and mixed reality, connect faster to loved ones, and will allow every gamer to be a more empowered broadcaster. And with the Creators Update, Microsoft Edge will be the first browser to bring 3D to the web.
With liberty and 3D for all.
Microsoft introduced a new way to bring your ideas to life with Paint 3D, a whole new 3D art studio. They also introduced the new online community Remix3D.com, which connects creators and creations around the globe. Remix 3D will enable new scenarios for creators wherein they can share their 3D creations broadly with the Remix 3D community. Everyone is invited to begin creating and sharing in Paint 3D today by joining the Windows Insider Program at insider.Windows.com. You can learn more about 3D in Windows 10 at Remix3D.com.
3D models and new inking features supported by Office apps.
New features in Office apps will be had with The Windows 10 Creators Update, including support for 3D models and new inking capabilities. Through PowerPoint on Windows 10, you will be able to add 3D models to bring your presentations to life. 3D-model perspectives can also be changed by rotating in three dimensions and applying transitions like Morph to apply cinematic-style 3D animation. The new inking capabilities in Office 365 announced October 26 include Ink Editor in Word, which lets you use your digital pen intuitively to make changes directly in Word, making the pen a mightier sword (and editing tool) than ever.
People everywhere will be able to experience mixed reality.
The Windows 10 Creators Update "will be the most powerful and affordable way to experience mixed reality," says the Windows 10 blog. As announced in October, HP, Lenovo, ASUS, Dell, and Acer will ship the first VR headsets capable of mixed or "augmented" reality through the Creators Update. Premiering in 2017, these accessories will contain built-in sensors to enable inside-out, six-degree freedom for simplified set-up and better ease of movement as you experience virtual worlds, with no markers required.
In-game broadcasting available for all gamers.
Anyone can become a game broadcaster or watch live gameplay with Beam technology that Microsoft engineers have built into Windows 10 and Xbox One. And, they're adding custom, gamer-created tournaments to Arena on Xbox Live. So, whether you're playing on Xbox One or a Windows 10 PC, Xbox is bringing every player together to play, compete, and broadcast.
A faster way to connect and share with your nearest and dearest.
The Windows 10 Creators Update puts the people you care about most at the center of your user experience with Windows MyPeople. With MyPeople, you will be able to pin your favorite contacts to the Windows task bar with easy drag-and-drop and sharing access for any document, photo or video right on top of the contact.
This is all just the tip of the iceberg for Windows 10 Creators and fans of ultimate creative computing. 3D and mixed reality for everyone, in-game broadcasting, and MyPeople are just some of the new interactive experiences coming with the Windows 10 Creators Update in early 2017. Additional productivity, creativity, security, and gaming features will also be included and announced soon by Microsoft. We'll keep you posted.
Have Windows 10 Creators Questions?
If you need further advice on the Windows 10 Creators update, talk to a specialist at Onserve, which is a proven leader in providing IT consulting as well as software management and support in Eastern Ontario. Contact one of our helpful IT experts at (877) 996-6622 or send us an email at sales@onserve.ca today, and we can help you with any of your questions or needs.